Re: [Ekiga-list] presence support has never worked
---
From: Michael Cronenworth <mike cchtml com>
To: Ekiga mailing list <ekiga-list gnome org>
Subject: Re: [Ekiga-list] presence support has never worked
Date: Thu, 29 Jan 2009 09:19:20 -0600
---

-------- Original Message --------
Subject: Re: [Ekiga-list] presence support has never worked
From: Damien Sandras <dsandras seconix com>
To: Ekiga mailing list <ekiga-list gnome org>
Date: 01/29/2009 03:42 AM



Le mercredi 28 janvier 2009 à 08:51 -0600, Michael Cronenworth a écrit :

With Ekiga 3.0.2, when receiving an empty NOTIFY, you see the contact as
offline. It is the normal behavior. Is that what you see or do you see
it as "unknown" ?

If you receive an empty NOTIFY message, it means the server did not
receive any presence document for the corresponding SIP peer.

I am attaching a screenshot from my work computer as I don't want to vnc home right now. It will only have the Echo Test contact, but this will show you the icon I see next to my contact's names. I always see this icon no matter what. I can even call the people on my list and video and voice chat and the icon remains the same. I never see a different icon. My contacts also report seeing the same icon. They never see a "green" icon next to my name or any name on their contact list.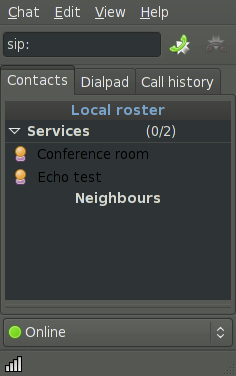 ---
---
[
Date Prev
][
Date Next
] [
Thread Prev
][
Thread Next
] [
Thread Index
] [
Date Index
] [
Author Index
]