Re: GNOME stickers
---
From: Máirín Duffy <duffy redhat com>
To: marketing-list gnome org
Subject: Re: GNOME stickers
Date: Wed, 08 Nov 2006 17:31:40 -0500
---

Jeff Waugh wrote:


<quote who="Máirín Duffy">




Sure, my idea for the sticker in the 6 color variations from the
stationery mockups is attached. I specified the Tango color for each
underneath.




These are awesome. Only comment: Perhaps go for the darker chameleon? (It's
a deeper green, less associated with other brand colours, closer to the
'nature' scheme we were talking about at the Summit.)

Ooh, good point. See attached - the darker green looks nicer and more natural / less dayglo.
I also added an 'aluminium 6' foot as well, Behdad! (I kinda like the dark dark grey better than black? It seems a little more elegant / and I've been using that grey in a lot of the branding mocks.)


~m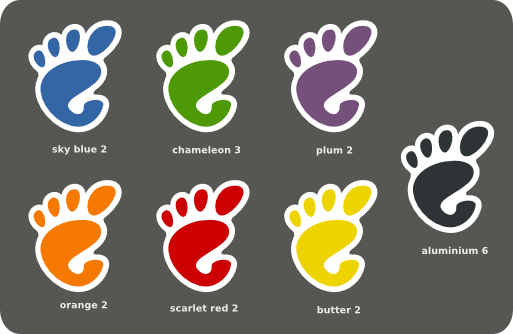 ---
---
[
Date Prev
][
Date Next
] [
Thread Prev
][
Thread Next
] [
Thread Index
] [
Date Index
] [
Author Index
]