Re: Questions about how to start a new language in GNOME
---
From: Daniel Șerbănescu <daniel serbanescu dk>
To: Amos Batto <amosbatto yahoo com>, GNOME I18n List <gnome-i18n gnome org>
Subject: Re: Questions about how to start a new language in GNOME
Date: Thu, 16 Sep 2021 10:51:55 +0200
---
On Thu, 2021-09-16 at 00:25 +0000, Amos Batto via gnome-i18n wrote:
My third question is whether there is any way to make the "ay" locale default to a language other than English if there is no available translation. Very few Aymara speakers know English, but almost all of them know Spanish, so I would like Spanish to be displayed if an Aymara translation isn't available. Is this possible?
Hello, I am just going to answer the above question:
You can choose as many languages as you please in the Cinnamon user environment and you could setup your defaults in your newly made distro.
For starters you need to get to the Language settings and drag and drop your language from the grey area to the black area. So you will have: Aymara and Spanish with black, everything else with grey.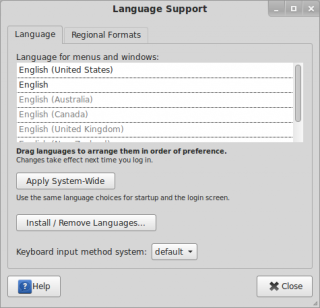 Hope this helps,
Regards,
Daniel
---
---
[
Date Prev
][
Date Next
] [
Thread Prev
][
Thread Next
] [
Thread Index
] [
Date Index
] [
Author Index
]