[Rhythmbox-devel] bugs in last.fm plugin
---
From: Sergey Smirnov <sergous gmail com>
To: rhythmbox-devel gnome org
Subject: [Rhythmbox-devel] bugs in last.fm plugin
Date: Mon, 24 Nov 2008 20:54:23 +0100
---

Hi dear developers,

Using RHEL 5.2 and Rhythmbox 0.11.6 in Last.fm notice bad behavior:

have playlist, but can select to play only next tracks, previous failed.

as I inspect, even I can't select tracks I can't play, even I don't see then in list.


also i see some artifacts with stars in list, shown in attach.

sory if fixed in newer versions.


I'd like to improve Rhythmbox and have some suggestion. Where I can put them, if you need them?


Regards,
Sergey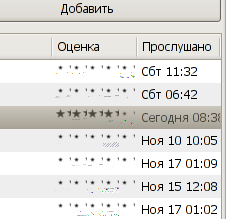 ---
---
[
Date Prev
][
Date Next
] [
Thread Prev
][
Thread Next
] [
Thread Index
] [
Date Index
] [
Author Index
]