[Rhythmbox-devel] Another mockup
---
From: Matthew McGowan <matthew joseph mcgowan gmail com>
To: rhythmbox-devel gnome org
Subject: [Rhythmbox-devel] Another mockup
Date: Mon, 24 Dec 2007 13:51:30 +1300
---

I saw some on the list submitting RB mockups for discussion.


I decided i'd have a go using photoshop. My main goal was to consolidate what i considered the 'Now playing' elements of RB's interface, and to sort of separate out the 'Library' functionality. I generally like the GUI of RB so i didn't want to alter it drastically (apart from relocating widgets), so all the widgets are basically just copies of what is in RB atm. The one exception in my mockup is the search field. I find it to be a bit of an eye-sore as it is, so i've tried to make it a bit more aesthetically pleasing, whilst maintaining functionality and usability. So the little icons to the right of the search field toggle the search filter between 'All', 'Artists', 'Albums', and 'Titles'. Depending on which filter you have toggled, the text in the search field would change from "Search all music" to, say, "Search artists" (similar to what Thunderbird does). This approach seems a better solution than the current "Search:" label which looks clunky. I've left out the little broom to clear the search, that is an accidental omission on my part.
There are only a couple of examples of new additions to the UI. Firstly, the note giving your Last.fm status at the top-right of the window. I poached this idea from Picasa2 which does something similar for Picasa Web Albums. This could be useful, perhaps on occasions when you prefer not to scrobble some tracks you are playing. For example; if you played someone else's music and didn't want your excellent record of taste tarnished, you could quickly log-out. :-P
Next, the track rating is noted next to the track name, which i think is nice, though superficial.
I gave the album cover a Picasa-esque frame, which is a two colour border, the inner border being 1px and the outer being 2px, as well as a drop shadow which i think looks nice.


Finally, if the Album release year is displayed after the album name.



If people like my ideas, or would like to shuffle things around, i can email the .PSD file which has all the layers intact. Gimp should handle it OK, except for the drop shadow.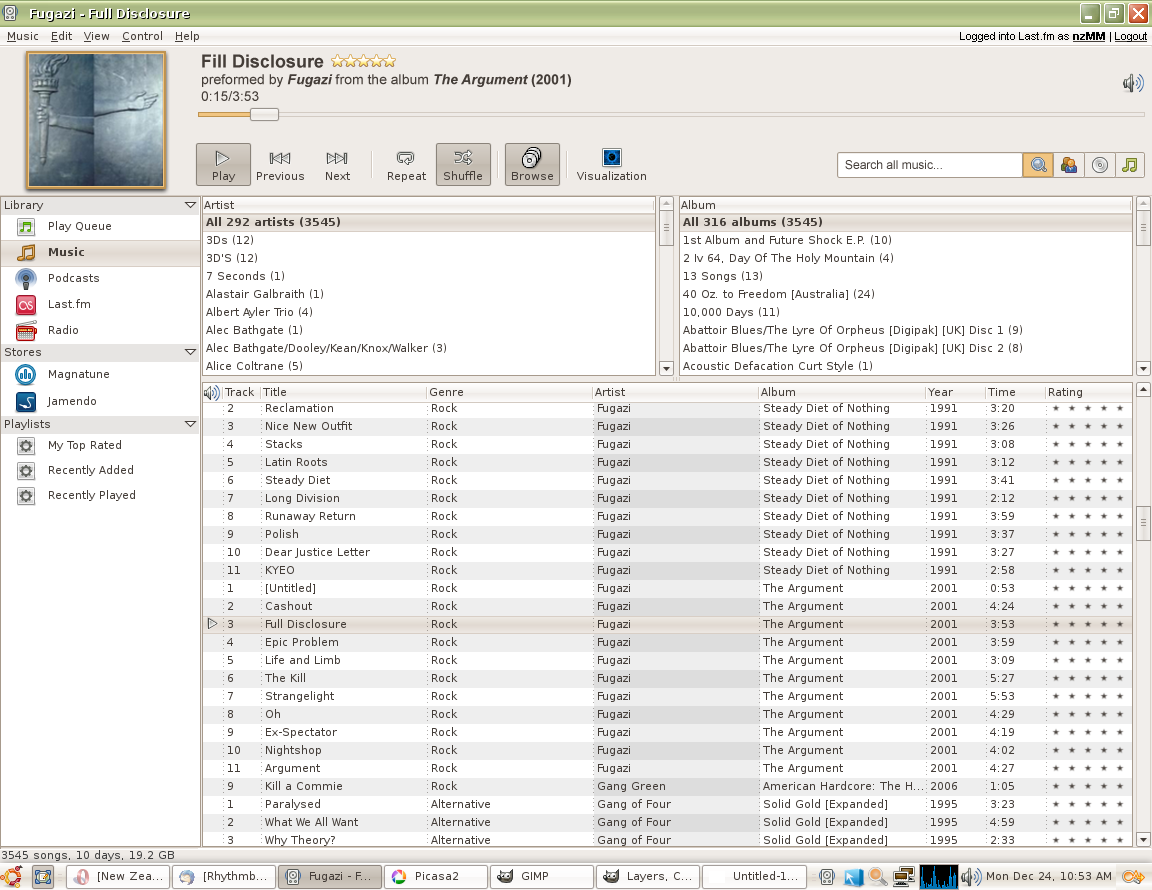 ---
---
[
Date Prev
][
Date Next
] [
Thread Prev
][
Thread Next
] [
Thread Index
] [
Date Index
] [
Author Index
]