Re: Gtk+ printing dialog highlevel thoughts
---
From: Alex Graveley <alex beatniksoftware com>
To: Alexander Larsson <alexl redhat com>
Cc: "gtk-devel-list gnome org" <gtk-devel-list gnome org>, Michael Sweet <mike easysw com>, Carl Worth <cworth redhat com>
Subject: Re: Gtk+ printing dialog highlevel thoughts
Date: Thu, 19 Jan 2006 08:22:32 -0800
---

Hi,

Alexander Larsson wrote:


I've started studying various platform APIs and UIs, cups, PPDs, etc,
preparing for this. To compare various platform and application
printing dialogs I have put together a set of screenshots from


Linux/OSX/Windows at: http://people.redhat.com/alexl/print_dialogs/
Intended for the archives, attached are the mockups presented at the Boston GNOME Summit '05.
Many things missing here... showing printer wait estimates, drop-down for saved settings if you have some, searchable chooser for networks with many printers, per-application custom controls, etc.


-Alex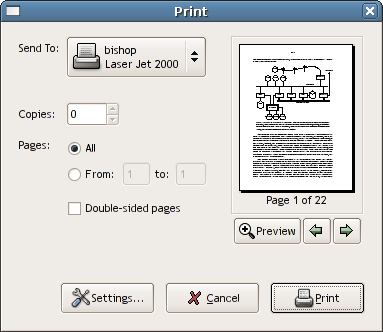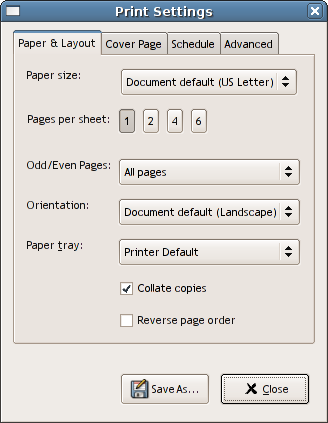 ---
---
[
Date Prev
][
Date Next
] [
Thread Prev
][
Thread Next
] [
Thread Index
] [
Date Index
] [
Author Index
]