I just installed dia 0.9. After reviewing things, I decided that the program was not what I had expected, and I wanted to uninstall the program. But uninstall failed, and the following error box came up.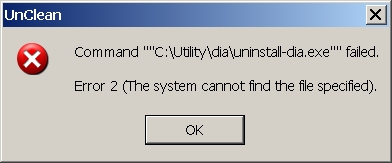 My system is a very high end P4 system running Windows XP Home with SP1 installed.
I checked the dia folder, and the unninstall file is not there.
Please advise -
Thanks for your help.
Ron Hirsch