Hello The GTK+ Team.

We are more than happy that Windows 7 was launched after long restless period of waiting. Due to this expected moment, we prepared and launched new Windows 7 download website that will be used by new Windows 7 customers to look for software compatible with Windows 7.

GTK+ for Windows x64 has been published on Windows7Download.com: http://www.windows7download.com/win7-gtk-for-windows-x64/gjnwgqag.html.

Draw attention to your product by making it visible on webpage that will be used by people who are devoted to Windows 7. The number of Windows 7 customers will rise to huge quantity in a short period of time.

We recommend you to place Windows 7 Download link on your website. Your software will be reviewed by our team much faster (usually within 48 hours) and could get Editor's pick, 5 stars award or free promotion and attracts our visitors!
Request editor's review here.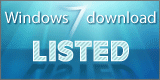 <a href=""><img src="" alt="Free download GTK+ for Windows x64 for Windows 7" border="0"/></a>






<a href=""><img src="" alt="Free GTK+ for Windows x64 for Windows 7 download" border="0"/></a>





<a href=""><img src="" alt="GTK+ for Windows x64 is Windows 7 compatible" border="0"/></a>


Text link:
<a href="" title="Download GTK+ for Windows x64">Download on Windows 7 Download</a>

Operation System Windows 7 is already looking forward to its rising popularity and this is the reason why you should not forgot this unique opportunity of rising interest of clients on software compatible with Windows 7. Highlight the facilities of your product by placing it on Windows 7 Download.com, which can help you to bring new valuable users.

We're looking forward for further co-operation.

Thank you,
Windows 7 Download


http://www.windows7download.com/
info windows7download com