Re: GNOME Backgrounds Revamp
---
From: Thomas Wood <thos gnome org>
To: gnome-themes-list gnome org
Cc: art gnome ansorg-web de, deusiah gmail com
Subject: Re: GNOME Backgrounds Revamp
Date: Sun, 15 Jan 2006 17:25:19 +0000
---
The 2.13.5 tarballs are due tomorrow, which incorporates the feature freeze. With this in mind, I would like to get the new set of backgrounds settled before I make the release tomorrow night. I've attached a screenshot showing all the backgrounds I'm going to put in for the 2.14 release.
I'm CC'ing the authors of 'Pebble Beach' (Chris Kempson) and 'Fresh Flower' (Jens Ansorg) for their comments and permission to include their work in the package. The yellow flower was a photograph from Garrett, who has already expressed his permission for it to be included. The nature shots where chosen because they were of high quality, and offered a range of colours (red, blue and yellow).
Some people may comment on the fact I have taken out all the previous tiles, but I felt that Andreas' ones looked more consistent and professional, as well as fun. Mixing and matching the old with the new just gave an unprofessional inconsistent feel about the collection. The old tiles will of course still be available in the old tarballs!
The GNOME foot translucent background was from Jakub, with translucent modifications by Lapo. I need comments from both about permission.
If anyone has any objections or comments, please let me know sooner rather than later!


-Thomas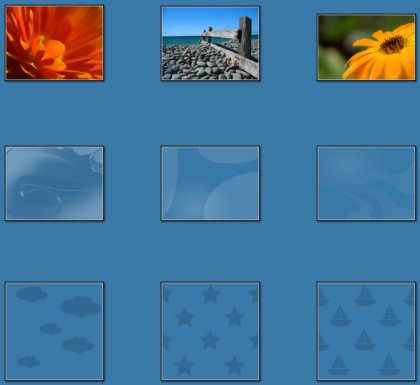 ---
---
[
Date Prev
][
Date Next
] [
Thread Prev
][
Thread Next
] [
Thread Index
] [
Date Index
] [
Author Index
]