Re: [Gimp-user] time saver?
---
From: "Alex Vergara Gil" <alex cphr edu cu>
To: "rmooney" <forums gimpusers com>, <gimp-user-list gnome org>
Cc: team gimpusers com
Subject: Re: [Gimp-user] time saver?
Date: Fri, 16 Nov 2012 09:20:05 -0500
---
There is a script named WaterMark that does this automatically asking you what and where to put the text.
It looks like this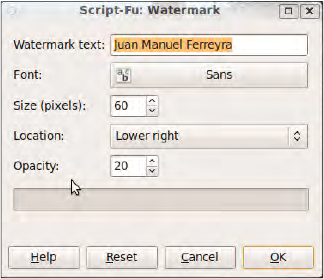 Regards
Alex
----- Original Message -----
Sent: Thursday, November 15, 2012 9:48 PM
Subject: [Gimp-user] time saver?
>I enjoy using GIMP, but I'm looking for some help to cut down on my time
> watermarking my photos. Currently I am opening a photo, adding text, rotating
> text, duplicating the text layer, then moving each layer to the top left and
> bottom right corners. Surely there must be a way to make this process quicker?
> Any help will be appreciated.
>
> --
> rmooney (via
www.gimpusers.com/forums
)
> _______________________________________________
> gimp-user-list mailing list
>
gimp-user-list gnome org
>
https://mail.gnome.org/mailman/listinfo/gimp-user-list
>
>
> __________ Información de ESET Smart Security, versión de la base de firmas de virus 7122 (20120509) __________
>
> ESET Smart Security ha comprobado este mensaje.
>
>
http://www.eset.com
>
>
>
---
---
[
Date Prev
][
Date Next
] [
Thread Prev
][
Thread Next
] [
Thread Index
] [
Date Index
] [
Author Index
]